Tell us a bit about yourself.
My name is Jason Fifita Heimuli, also known in the LGBTIQ community as Lady Jase of York, and I am a Tongan-identified transgender woman.
I am a Human Rights Activist who advocates for equal rights for all genders, including the LGBTIQ+ community and women across the Pacific, Oceania, and Asia. Having grown up in Tonga as a transgender woman, it has been the cultural norm and traditional mentality that transgender women or LGBTIQ people have no voice or place in society. I have often been told that transgender people can't be this; they don't have the right to that - I only wanted to make those impossible things possible. I came to Australia with an idea and interest to continue my education as I was never offered an opportunity for a scholarship or support for a quality education.
What made you decide to pursue a career in fitness?
After moving to Australia recently, I used to work out at the gym but being a transgender person in the gym is awkward, and I didn't receive the same help and support a normal person receives from the PTs and staff. I also used to work for the Tonga Leitis Association, the only umbrella organisation for the LGBTIQA+ community in Tonga and soon discovered that no Tongan transgender individual was pursuing a career in fitness.
My interest grew stronger in becoming a Personal Trainer so I can provide friendly service for transgender people and anyone uncomfortable with themselves and struggling with maintaining a healthy lifestyle and weight, regardless of their age, race, ability, faith, gender, or other social differences. I also wanted to show anyone who wishes to pursue a career in fitness that it is possible by being hardworking.
My dream was to become a PT and help individuals at all fitness levels, from those with no fitness experience to those with advanced skills, or those who lack motivation or need assistance maintaining a healthy lifestyle. My motivational skills have been known to inspire people to want more and better for themselves.
What course did you study? Which gym did you have your face-to-face practical assessments in?
I studied my Certificate IV in Fitness and was mentored by Christian Wall (I highly recommend him as a great mentor) at Goodlife Health Clubs, Browns Plains in Queensland.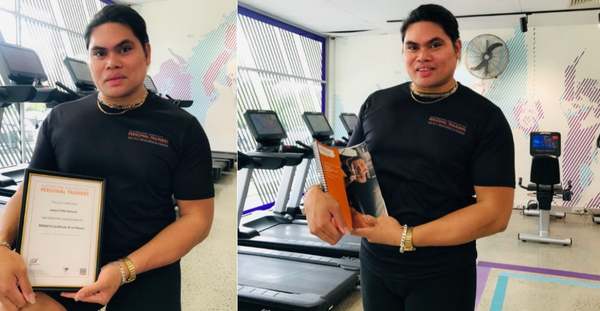 Why did you choose to study with AIPT?
When my interest in becoming a Personal Trainer grew stronger, I began seeking out institutions and places that offer PT courses and studies. When I contacted some institutions, I was told I was not eligible to study with them as I didn't meet their financial requirements. It wasn't long before I found AIPT by searching on Google.
When I contacted AIPT, I was told a member of the finance team would get in touch with me to discuss a few options and determine the most suitable option for me, especially since I experienced financial hardship during the pandemic of Covid-19.
After receiving the phone call, everything proceeded smoothly from start to enrolment, and I was accepted as a student within a short time. The time after I was approved to be a student was a turning point in my life, and I knew I still had a dream to pursue. I will never forget how I felt after being rejected by a few institutions. I was almost hopeless and aimless. I knew that AIPT saw me as a potential asset and a valuable member of society, who would contribute significantly. I am beyond grateful and cannot thank them enough for allowing me to pursue my career, my dream job, and my life and for helping make my wish to make history become a reality. AIPT will be recognised in Australia and worldwide for providing a safe space, gender inclusivity, equal opportunities and the right to Education, Health, and Fitness for LGBTIQA+ regardless of race, gender, belief and nationality. My hope is that LGBTIQA+ people who want to pursue a career in fitness will be inspired by my story.
What are your plans for the future?
I plan to keep striving to educate, teach, encourage, and motivate people to achieve their fitness goals. My vision is to help people of all fitness levels set goals, make changes, improve techniques, overcome obstacles, and find peace of mind in a positive and safe environment. Also, I have a dream to create my own business to grow and establish a name in the health and fitness industry so that people will remember how trustworthy I am and the service I provide.
What would you say to people who are considering taking the leap into a career in fitness?
I wish to inspire you all to pursue a career in fitness as it not only motivates others to make a change and improve themselves in their lifestyle but to remind them that they are not alone. Being a Personal Trainer can be so much fun. It will be a very rewarding experience, especially when we become life-changing influencers.
Interested in becoming a Personal Trainer? Pursue your dream career with our Complete Personal Training Course. Enquire now, and one of our friendly Careers Advisors will be in contact with you soon!