Touted as the 'Best Mud Run in the World' and probably the toughest event on the planet, Tough Mudder, is not an event you do for a lark.
Quite the opposite; it requires serious commitment and specialised training.
Tough Mudder 2018
The 2018 Tough Mudder season will kick off soon in South East Queensland on 19 and 20 May at Woodfordia among rolling hills and thick back-forests readied up for the Mudders. The action will then move to Melbourne and Sydney. More information about the events can be found here.
What is Tough Mudder?
Well, it's not a long event by any stretch; Tough Mudder is a 16-20km mud and obstacle course that is designed to test your physical strength, stamina, and mental grit. How to prepare for a Tough Mudder? We are not going to lie; it's a jog on a mission and that mission is to annihilate you with energy-sapping challenges every half kilometre or so. Just when you're falling into a nice jogging rhythm, you'll be clambering over a high wall, crawling under a low roof of barbed wire, and that's just the nice ones. The crueller tests will have you leaping into iced water to literally take away any breath you have left.
If you have what it takes to stumble/crawl/run on, you're a tough enough Mudder to consider one of these spectacularly gruelling events and maybe even finish.
5 Training Tips for Tough Mudder
While the bulk of the training involves gruelling, hard work and there is no way around it, we have compiled 5 quick tips to help you in your extensive training.
Tip One: Finishing is winning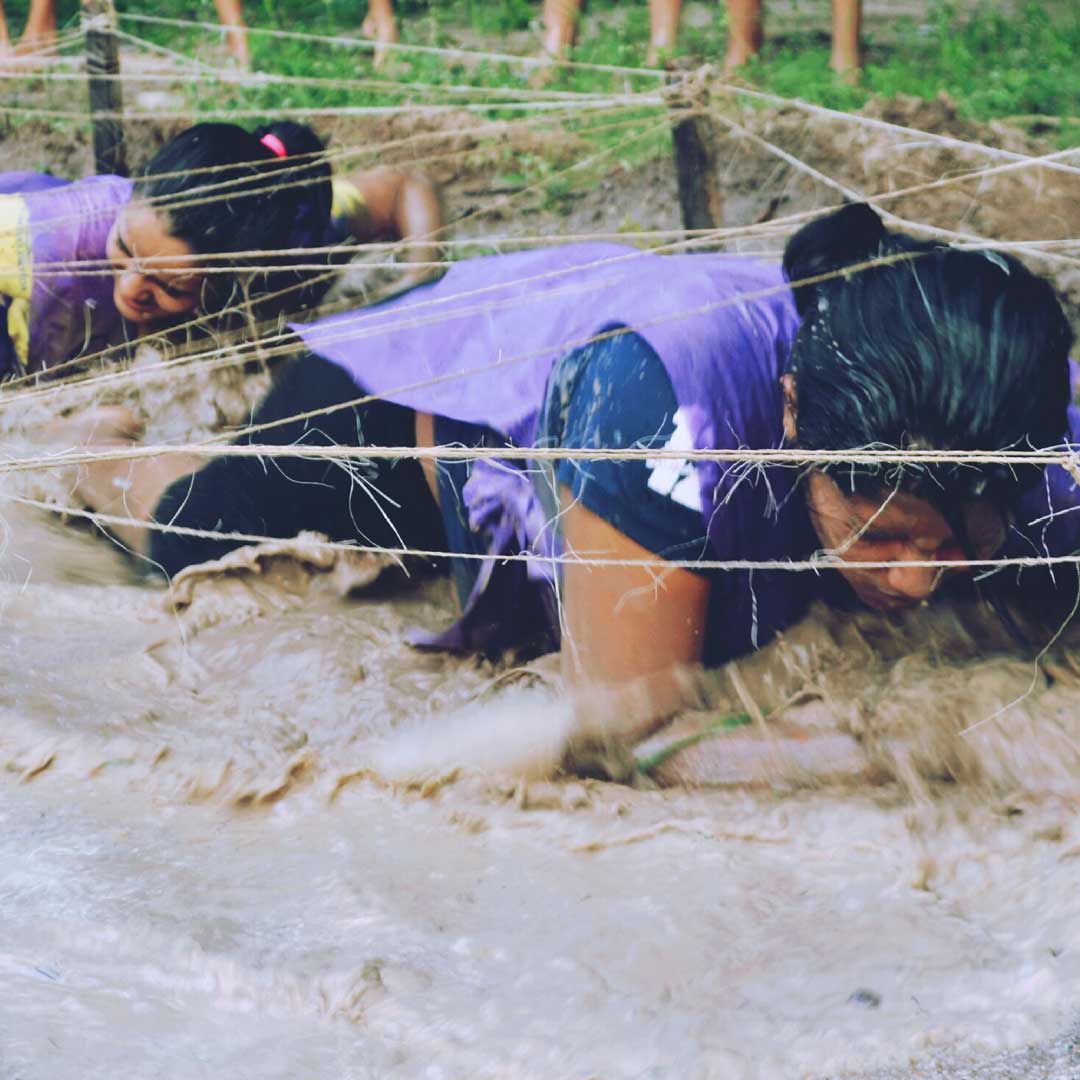 Tough Mudders aren't about time or even finishing first; they're about finishing; that's a feat in itself. How long does it take to do Tough Mudder? As long as it takes; this is a severe mental as well as physical test.
And that pretty much defines how you go about training.
Tip Two: Make sure you can run 19kms
Or better still, 24kms. That's the first step before you even consider all the energy-sapping, mind-numbing stuff you also need to train for.
And don't worry too much about times; focus on being able to run a half marathon at a comfortable pace that gets you to the end with plenty of energy in reserve. That's the energy you'll need for the full body workout the Tough Mudder will inflict on you along the way.
Tip Three: Start running 3 months before the event
Give yourself at least 12 weeks to prepare and aim for 10ks twice a week with shorter runs in between. Two months prior, pick your long runs up to 14ks and above twice a week with a mix of shorter runs.
Training hard? Sure you're doing it right? Our Trainers reveal 5 Bad Exercise Habits you should get out of immediately!
Tip Four: Start working out three months before the event
In a Tough Mudder, you're going to be hauling yourself over high walls, under walls, dragging yourself through thick mud and maybe even carrying someone in agonising short bursts.
Mostly, you'll be dealing with your own body weight; hoisting it, throwing it, hauling it, so any sort of major weights program isn't right for a Tough Mudder. Instead, you should focus on the sort of bodyweight resistance exercises that will mimic the event.
Pull-ups, push-ups, planks, sit-ups, and dips; are the exercises that will get you toned and tossing your own body around in Tough Mudder-like ways. Add in one arm pull-ups and one arm push-ups as your strength grows.
Tip Five: Mix it up
Each week, your runs should be a mix of long and short with the longer ones getting longer each month until event day. Blend in your muscle work with high and low-intensity workouts every week.
Love training and want to take your fitness to a whole new professional level? Our SIS30115 Certificate III in Sport and Recreation would be perfect for you! Fill out our Enquiry Form and one of our Careers Advisors will be in touch with you with more information about this or our range of fitness courses!